House Cleaning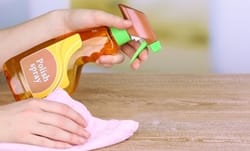 Having a professional clean your home frequently – or perform a one-time thorough cleaning – is a great way of caring for your house without you breaking a sweat. Routine cleaning plays a significant role in the preservation of furniture, floors, countertops, wood and upholstery. Most people get intimidated by the possible cost of hiring house cleaning services. However, the benefits that come with professional cleaning far much outweighs this cost. First, they have the experience to do it right - they use the best techniques and products to complete the job. They have vast knowledge on products that will work for your home and will provide just that.
With them, you have the assurance of consistency, each time. Hard to clean areas are not only challenging to reach, but they can also pose falling danger to you. Cleaners handle these types of jobs daily and have the right expertise and tools to clean these areas comfortably. They are also insured and bonded, to cover you just in case of any mishap. With their help, you can enjoy less fatigue and more free time to do what you've always wanted to do in your free time.
The average reported costs of house cleaning is $158. Most homeowners spend between $115 and $227, with some paying as low as $60, while others as high as $337. Typically, these services are priced per hour or square footage. Square footage costs are dependent on how big or small your house is. Per hour charges range from $25 to $35.
The cost of professional house cleaning can be influenced by the frequency of the service. Multiple visits considerably add to your net savings, which can range between $5 and $10 per cleaning. Other factors that affect the costs are the number of rooms to be cleaned, special circumstances like pets, antiques and allergies, difficult to access areas and if you are located within the service area.
FAQ
Q. What should I expect from the house cleaning services?
A. A standard house cleaning includes vacuuming your floors (which may or may not be inclusive of polishing), scrubbing sinks, countertops, and floors. The professionals also dust surfaces, but if you have fragile items like antiques, or need special cleaners, you will have to pay more. Some professionals provide other tasks as part of their regular cleaning service, for example, changing bed linens, loading your dishwasher, cleaning your stovetop and inside the oven. However, most of these services do not cover the exterior of your home – even the outside of the windows. The cleaners do not do your laundry, dishes, or wash walls unless you've agreed on this for an extra charge. Finally, they won't pick after you. If your floor has scattered books, toys, shoes and so forth, they cannot vacuum it, unless they are working by the hour.
Q. How often should I get professional house cleaning services?
A. The frequency of house cleaning is dependent on your schedule and needs. Handicapped or elderly people might need weekly cleaning to help them stay on top of things. People with busy schedules or who have numerous visitors often need plenty of help, in this case also, weekly cleaning can be ideal. Bi-weekly cleaning is sought after by those who are busy but don't have overload with social commitments or with work. Monthly deep cleaning is enough for people who are not overloaded with social responsibilities and don't have loaded schedules.
Q. What are the benefits of house cleaning?
A. House cleaning has several benefits including, prevention of infections, lowers stress levels, helps anger management, keeps allergies under control and improves concentration.